Pumpkin Decorating Contest
Pumpkins should represent a book or book character.
No carved pumpkins!
Pumpkins will be accepted during library hours on Monday, Oct. 21 and will be on display until Halloween.
All pumpkins must be reclaimed on Friday, Nov. 1st. Any pumpkin that is not claimed by the end of the day will be discarded.
The Peru Public Library retains the right to use the pictures of the entries on our social media websites.
3 winners will be chosen: Facebook favorite, Patron favorite, and Staff favorite!
---
Anything Goes Crafts
2nd Thursday of each month @ 6 PM and 3rd Friday of each month at 10:30 AM
Come for a different craft workshop every month! Registration is required (so we can get enough supplies) but the workshops are free! Sign up by calling us, coming in (the sign-up sheet is in the computer room), or via our Facebook event page for each month's craft!
October's flyer: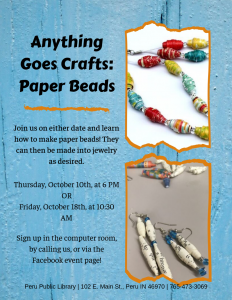 ---
Library Reads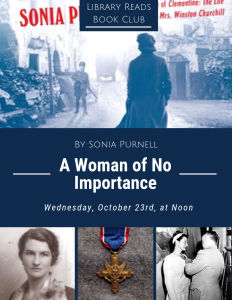 ---
Tech Tuesdays
Do you want to learn more about setting up or using Facebook, Pinterest, Instagram, our digital library, email, or something else? Sign up for one-on-one tech help on Tech Tuesdays!
You can sign up for a Tech Tuesday appointment in the computer room – time slots are limited and may not be changed expect by the adult programming coordinator.
Please arrive with a clear goal of what you would like to learn.
Please arrive with all the necessary passwords needed to access your device or accounts.
Be sure to bring in any device you need help with. We provide ONLY PC desktops.
We are unable to troubleshoot or fix malfunctioning devices, take apart or replace physical parts on a device, or participate in credit card transactions.